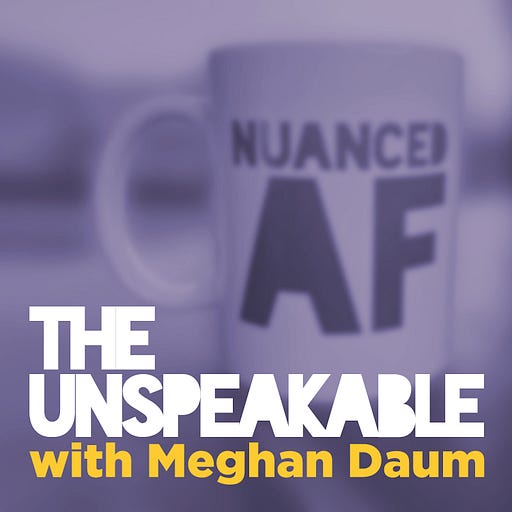 Sep 8 • 2M
What Can A Man Do?
Christine Emba of The Washington Post discusses uncritical sex positivity, a damaged dating landscape, and the serious challenges facing modern men.
Appears in this episode
The Unspeakable Podcast is a weekly interview show hosted by writer Meghan Daum. It's a place for conversations with writers, scientists, philosophers, artists and all kinds of interesting people about topics that have been deemed "unspeakable." Of the many podcasts offering nuanced conversations, this is the only one with official Nuanced AF merchandise available at the Nuance Store. All archived episodes are here on Substack. You can also check out the ratings and reviews on Apple Podcasts if you want to see what other people are saying. And feel free to rate and review there as well as comment here.
Paid subscribers get early access to my interview with writer and opinion columnist Christine Emba. I'm dropping this early for you guys.
Not a paid subscriber? You'll have to wait to hear the full episode, but here's a teaser to get you excited. As always, paid subscribers also get to hear the bonus extended conversation.
It seems like everywhere you look, men are struggling to find a sense of meaning and purpose. In fact, men are just getting kind of weird. On the other side of the equation, many women say they can't find a "good man" who meets their expectations.
Enter Christine Emba, Washington Post columnist and author of the 2022 book Rethinking Sex: A Provocation. In a recent WaPo essay, she discusses the crisis of masculinity and where men are looking for models of masculinity, from Jordan Peterson to Andrew Tate and beyond. In this episode, we chat about her article, her book, the past and present mating economy, and the evolution of her own thinking since her college days and the emergence of "the Princeton mom."
(Leave it to her to ask the questions Matt Walsh doesn't.)
This episode is for paid subscribers