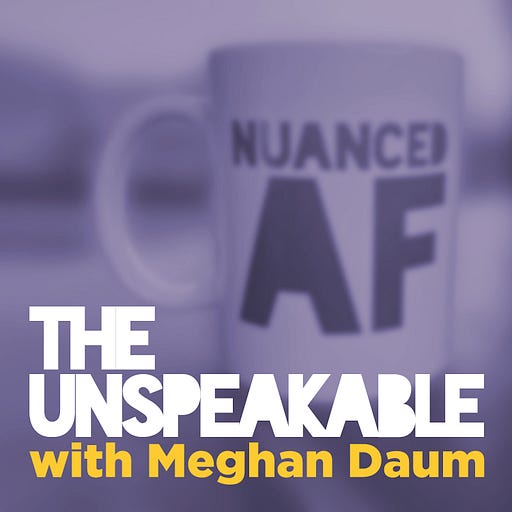 Sep 11 • 1HR 10M
FREE: What Can A Man Do?
Christine Emba of The Washington Post discusses uncritical sex positivity, a damaged dating landscape, and the serious challenges facing modern men.
Appears in this episode
The Unspeakable Podcast is a weekly interview show hosted by writer Meghan Daum. It's a place for conversations with writers, scientists, philosophers, artists and all kinds of interesting people about topics that have been deemed "unspeakable." Of the many podcasts offering nuanced conversations, this is the only one with official Nuanced AF merchandise available at the Nuance Store. All archived episodes are here on Substack. You can also check out the ratings and reviews on Apple Podcasts if you want to see what other people are saying. And feel free to rate and review there as well as comment here.
Paid subscribers get early access to my interview with writer and opinion columnist Christine Emba. Not a paid subscriber? You don't have to wait to hear the full episode!
Upgrade your subscription to hear upcoming episodes early and get access to bonus content!
It seems like everywhere you look, men are struggling to find a sense of meaning and purpose. In fact, men are just getting kind of weird. On the other side of the equation, many women say they can't find a "good man" who meets their expectations.
Enter Christine Emba, Washington Post columnist and author of the 2022 book Rethinking Sex: A Provocation. In a recent WaPo essay, she discusses the crisis of masculinity and where men are looking for models of masculinity, from Jordan Peterson to Andrew Tate and beyond. In this episode, we chat about her article, her book, the past and present mating economy, and the evolution of her own thinking since her college days and the emergence of "the Princeton mom."
(Leave it to her to ask the questions Matt Walsh doesn't.)
In the bonus, we talk about dating apps — everyone's favorite gripe — in addition to the resurgence of matchmaking and how people got dates and met people in the pre-app world.
Upgrade your subscription to hear our conversation.
Guest Bio
Christine Emba is a writer for The Washington Post's Opinions section. She is also the author of Rethinking Sex: A Provocation, which challenges the narrative of sex positivity. Prior to joining the staff of The Washington Post, Emba was the Hilton Kramer Fellow in Criticism at the New Criterion and a deputy editor at the Economist Intelligence Unit. She grew up in Virginia and earned an A.B. in Public and International Affairs from Princeton University.
Get her book "Rethinking Sex: A Provocation."
Love nuanced conversations? Subscribe to get more where this came from!
Housekeeping
🎟️ Get your ticket to The Free Press debate with Grimes, Sarah Haider, Louise Perry and Anna Khachiyan.
🏔️ Meet me at The Unspeakeasy Denver Retreat on September 30th.
🧖‍♀️ Join me at our sanity/real spa retreat in the Poconos with guest speaker Kat Rosenfield.
🎉 Can't come to the full, one-day retreat on September 30th? Join us for a co-ed party that same evening!
🥂 Join The Unspeakeasy, my community for freethinking women.
🔥 Follow my other podcast, A Special Place in Hell.
The Unspeakable with Meghan Daum is a reader-supported publication. To receive new posts and support my work, consider becoming a free or paid subscriber.
The Unspeakable with Meghan Daum is a reader-supported publication. To receive new posts and support my work, consider becoming a free or paid subscriber.