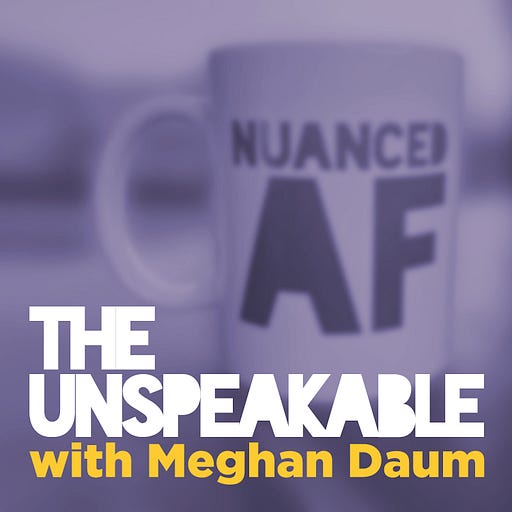 Mar 4 • 1HR 38M
How To Land In A Psych Ward
A Conversation With Freddie deBoer
The Unspeakable Podcast is a weekly interview show hosted by writer Meghan Daum. It's a place for conversations with writers, scientists, philosophers, artists and all kinds of interesting people about topics that have been deemed "unspeakable." Of the many podcasts offering nuanced conversations, this is the only one with official Nuanced AF merchandise available at the Nuance Store. All archived episodes are here on Substack. You can also check out the ratings and reviews on Apple Podcasts if you want to see what other people are saying. And feel free to rate and review there as well as comment here.
This, as always, is the long version of the episode, with bonus content for paying subscribers. I'm unlocking it this week so free subscribers can see what they're missing. So, regulars, be gracious hosts. And keep those comments coming!
Early access to March 6, 2023 edition
Freddie deBoer has a very popular Substack newsletter and is the author of the 2020 book, The Cult of Smart. He writes about culture and social politics and is known for his trenchant insights into mental health issues as well as his Marxist politics. He visited The Unspeakable to talk about a number of subjects, including a recent Unspeakable conversation about involuntary psychiatric treatment. Diagnosed with bipolar disorder when he was 20, Freddie makes the case that it's actually quite difficult to find mental healthcare for oneself or for a loved one, particularly in a crisis situation. He talks about the circumstances that led to his first stay in a psychiatric hospital, what services he received both during and after those stays, and why it's so difficult to find meaningful help for homeless people in visible mental distress.  
For you, the paying subscribers (thank you!) Freddie stayed overtime and discussed his recent essay about why the 1990s were objectively the best time to be alive. That's a favorite subject of Meghan's, as is the subject of how to cope with the vicissitudes of the new creative economy, and he covered that as well.
Freddie deBoer's writing can be found here:
His 2020 book, The Cult Of Smart: How Our Broken Education System Perpetuates Social Injustice was published by St. Martin's Press.