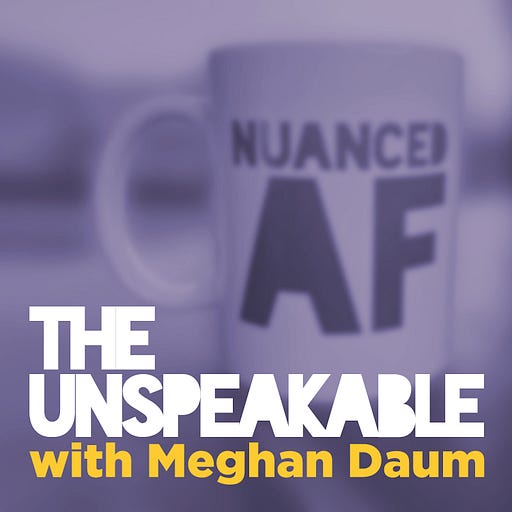 Sep 1 • 1HR 16M
Maria Bamford Wants to Join Your Cult
A comedian and a podcaster walk into a dog park...
The Unspeakable Podcast is a weekly interview show hosted by writer Meghan Daum. It's a place for conversations with writers, scientists, philosophers, artists and all kinds of interesting people about topics that have been deemed "unspeakable." Of the many podcasts offering nuanced conversations, this is the only one with official Nuanced AF merchandise available at the Nuance Store. All archived episodes are here on Substack. You can also check out the ratings and reviews on Apple Podcasts if you want to see what other people are saying. And feel free to rate and review there as well as comment here.
The Unspeakable Podcast is back for its 4th season! And this Substack is one year old! Up until now, the only podcast posts I've made here are the "bonus" versions for paying subscribers. (In other words, as a free subscriber, you've been listening on your regular podcast app.) But starting now, I'll post it here, too.
Still, the only way to leave or read comments or to hear the bonus portion is to become a paying subscriber. So I hope you'll consider it. Thank you! — Meghan
---
Famous comedian Maria Bamford became my friend at the dog park, and she came on the podcast!
In the bonus, Maria stayed overtime to talk about being 53 years old, which is also how old I am. We also talk about Sex and Love Addicts Anonymous, "sexual anorexia," regular anorexia, eating rice cakes, and choosing not to have kids.
Her new book, Sure I'll Join Your Cult: A Memoir Of Mental Illness And The Quest To Belong Anywhere is a rollicking homage to the power of groups. From 12-step meetings to game nights to, well . . . dog parks, Maria loves gatherings of people. But she's also spent a lifetime struggling with mental health issues that make her anxious around people.
In this conversation, we talk about financial survival in the creative economy (she made her first appearance on The Tonight Show while working as a receptionist at NBC), Maria's love for Debtor's Anonymous and her fascination with money in general, what it's like to use dating apps when you're a celebrity, and much much much more.
Paid subscribers get early access to my interview with comedian, Maria Bamford. Not a paid subscriber? No need to wait to hear future episodes and my extended conversation with her (which you won't get anywhere else.) Upgrade your subscription now.
GUEST BIO
Awarded Best Club Comic at the American Comedy Awards and Breakout Comedy Star at the Montreal Comedy Festival, Maria Bamford's critically acclaimed work includes her web series "The Maria Bamford Show," "Ask My Mom," and her Netflix series "Lady Dynamite." Maria's writing has been featured in The New York Times, LA Weekly and The Onion.
Maria has contributed comedic voiceovers for such animations as Netflix's "Big Mouth" and "BoJack Horseman," Cartoon Network's "Adventure Time," PBS's Emmy-winning series "Word Girl," Nickelodeon's "Kung Fu Panda" and "Legend of Korra," and the international hit "Talking Tom and Friends."
Her new book Sure, I'll Join Your Cult, comes out on September 5.
Visit her website at www.mariabamford.com
---
You can also listen to the interview here on YouTube.