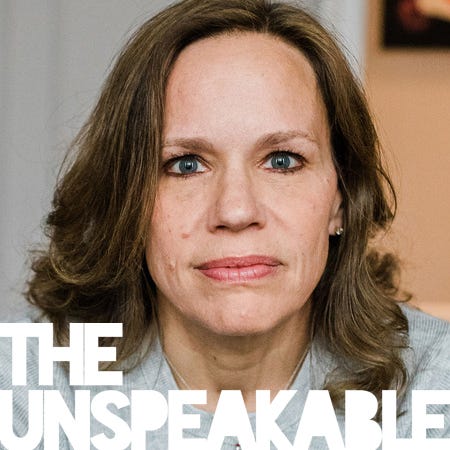 Apr 25, 2022 • 1HR 14M
When The Workplace Is A Woke Place: Jennifer Sey on Corporate Branding Versus Personal Beliefs
The Unspeakable Podcast is a weekly interview show hosted by writer Meghan Daum. It's a place for conversations with writers, scientists, philosophers, artists and all kinds of interesting people about topics that have been deemed "unspeakable." Of the many podcasts offering nuanced conversations, this is the only one with official Nuanced AF merchandise available at the Nuance Store. All archived episodes are here on Substack. You can also check out the ratings and reviews on Apple Podcasts if you want to see what other people are saying. And feel free to rate and review there as well as comment here.
Jennifer Sey spent more than twenty years at Levis Strauss and Company, rising through the ranks to Chief Marketing Office and then Global Brand President. In 2020, she was in line to become CEO of the company when the Covid pandemic hit and she found herself working from home with four kids out out school. Soon, she became frustrated by school closures and puzzled about lockdown polices for kids in general. And she started speaking up about it. This did not sit well Levis and Jennifer was eventually forced out of the company — and offered a million dollar severance package in exchange for singing a non-disclosure agreement. But Jennifer was so committed to speaking out that she turned down the deal. In this interview, Jennifer and Meghan talk about how social media has blurred the lines between professional comportment and personal beliefs. They ask what it means when corporations take public political stances, how to tell a genuine expression of company values from virtue signaling, and whether corporate wokeness actually helps sell products. They also discuss Jennifer's career as an an elite gymnast and how her decision to come forward about abuses in USA gymnastics paved the way for her current activism around kids and covid policy.    
Guest Bio:
Jennifer Sey spent close to 23 years at Levi Strauss & Company, holding a variety of leadership positions, including Global Brand President. She was first woman to hold that post. She is also a former elite gymnast and was the U.S. National all-around champion in 1986. In 2008, she released a memoir, Chalked Up, about her life in gymnastics and she is also the producer of the Emmy award-winning documentary Athlete A, about abuses within competitive gymnastics, including the sexual abuses of hundreds of young gymnasts committed by team doctor Larry Nassar.