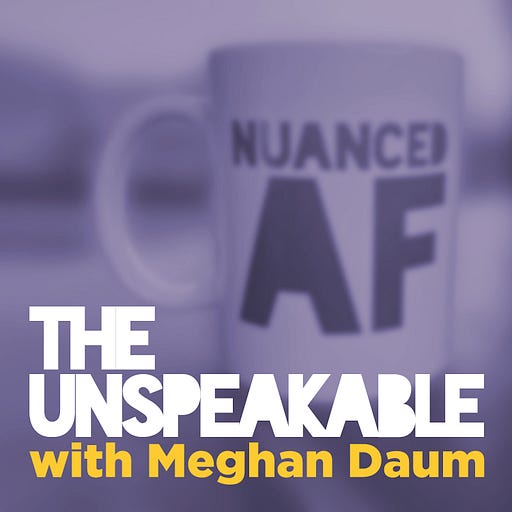 Sep 18 • 1HR 19M
FREE: Ask A Jew: The Hottest World Leaders And Despots
If you only ever listen to one conversation about mikvehs, let it be this one.
Appears in this episode
The Unspeakable Podcast is a weekly interview show hosted by writer Meghan Daum. It's a place for conversations with writers, scientists, philosophers, artists and all kinds of interesting people about topics that have been deemed "unspeakable." Of the many podcasts offering nuanced conversations, this is the only one with official Nuanced AF merchandise available at the Nuance Store. All archived episodes are here on Substack. You can also check out the ratings and reviews on Apple Podcasts if you want to see what other people are saying. And feel free to rate and review there as well as comment here.
Paid subscribers got early access to my interview with Yael Bar-Tur and Chayaleah Sufrin of Ask A Jew. As always, paid subscribers also get to hear the bonus extended conversation. Want early access? Upgrade your subscription.
The ladies from Ask A Jew are back for their biannual visit. This time for the Jewish New Year! In this episode, we talk about the meaning of Rosh Hashanah, Yom Kippur and (since we apparently have to go over it again) why Orthodox Jews have to get their cars detailed before Passover. (It's true.)
We also talk about mikvehs. Because you know you were wondering. If you only ever listen to one conversation about mikvehs, let it be this one.
Most importantly, we revisit our evergreen topic: the world's hottest dictators, despots and garden-variety world leaders. Who was hotter? Stalin or Gadaffi? Is Bibi Netanyahu more your type? Or George H.W. Bush?
In the bonus, I do a solocast where I answer AMA questions and share more of my existential crisis about how to pronounce my last name. Paying subscribers who have questions for me can put them in the comments.
Guest Bio
The Ask a Jew podcast is where Yael Bar Tur, a secular Israeli living in New York, and ChayaLeah Sufrin, a Hasidic mother in Los Angeles, discuss everything from Torah to Tinder, no topics are off-limits.
Yael Bar Tur is a digital communications consultant with over 15 years of experience in social media, government, law enforcement and crisis communications. She served as the Director of Social Media and Digital Strategy for the New York City Police Department (NYPD).
Born and raised in Israel, Yael served in the Israeli Army as a foreign press liaison in the height of two wars, as well as volunteering for reserve duty at the Israeli field hospital in Haiti immediately following the 2010 earthquake.  She holds a Master's Degree from the Harvard Kennedy School of Government.
Yael lives in NYC where she has been granted lifetime approval to pet all police K9s.
ChayaLeah Sufrin is the Executive Director at Beach Hillel. Prior to Hillel, she spent 15 years teaching high school Jewish history and was the Education Director of Shul by the Shore.
ChayaLeah has been married to her husband Boruch for 18 years and together, they have four sons. Jewish education and building community are ChayaLeah's two main passions - she also loves the New England Patriots. She was recently named one of Hadassah's 18 American Zionist Women You Should Know.
Know someone who would love this episode? Gift or donate a paid subscription!
Housekeeping
🔥 Follow my other podcast, A Special Place in Hell.
🥂 Join The Unspeakeasy, my community for freethinking women.
🎉 Can't make it to the one-day retreat on September 30th in Denver? Join us for a co-ed party that same evening!
🧖‍♀️ Join me at our sanity/real spa retreat in the Poconos with guest speaker Kat Rosenfield.